Softly Stalks The Beast Of Terror In Our Backyards
by Cliff McKenzie, editor, vigilancevoice.com
GROUND ZERO PLUS 1264 DAY--New York, NY, Sunday, February 27, 2005--Wichita, Kansas' population of 344,284 people, according to the 2000 US Census, has an alleged Terrorist/Killer in custody.
Police arrested 59-year-old Dennis L. Rader yesterday in connection with a string of murders over the past thirty years commonly known as the B.T.K. case--Bind, Torture and Kill.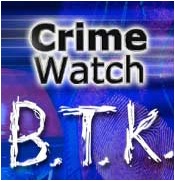 Police arrest suspect in B.T.K. killings
Ten deaths are piled up against the BTK suspect who has a history of taunting police with clues over the past thirty years ala a CSI Crime Investigation or NUMBERS television show where the true target of the crime isn't so much the victim as the cat-and-mouse game of "catch-me-if-you-can" between the murderer and the police.
The suspect in this case fits the perfect profile for a television show or movie script. The suspect is active in his church, married with two children, and even led a scouting troop for boys.
More importantly, he's worked for the city for over a decade as an inspector driving around issuing tickets for anyone who abuses their trash or keeps their yards in disarray.
Wichita City is demographically similar to most American towns. It has 139,087 housing units for its nearly 350,000 population, and more than 60 percent, 85,711, are owner occupied.
Family households with children under 18 years, including rental and owner-occupied, push close to 90,000. The population by age range for the children include: Under 5 years, 28,000; 5-9 years, 27,000; 10-14 years, 25,000, 14-19 years, 24,000.
About one-third of the population are children under the age of 18 years.
And, amongst them, for a generation, has lived, walked, talked and interacted a potential serial killer police have spent millions in search of for more than 31 years.
What frightens most people is that as part of his job with the City, he had access to virtually every detail of 6,000 homes in Park City where he was a municipal compliance officer. In other words, he was part of the "trash police," those uniformed city employees who cruise around ticketing people in a neighborhood who don't cut their yards, shovel snow and other minor infractions that don't meet the city's ordinances.
However, such a job gives its user access to homes and an insight into virtually every detail of their lives.
At Christ Lutheran Church in Wichita, the suspect was president of the church council and has been a member for thirty years. His two children are in their late 20's.
Police Chief Norman Williams has locked up Rader in an undisclosed location to stem publicity.
But, there is rush to judgment. Neighbors have convicted the suspect simply because of the arrest.
Ironically, the issue seems to reflect the completion of a task rather than the unearthing of a reality--that the Beast of Terror Lives Amongst Us!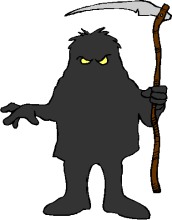 The Beast of Terror can live among us
In one sense of the word, the arrest of the suspect validates that no one really can predict who the next Beast will be.
Vigilance is about recognizing the Beast Within and attempting to manage that Beast, however miniscule that Beast or "beast" may be.
At what point does self-loathing turn to self-hatred? At what point does thinking of one's self as being "less than" convert to "loser" and "failure" and ultimately to someone who suffocates his or her human beingness by becoming a doormat?
Where is that line one crosses to become an abuser of others, verbally or physically, that leads to the behavior of a brutal killer, a Terrorist?
While the answers to these questions can never be fully found, the ability to stem the growth of Fear, Intimidation and Complacency within us all can.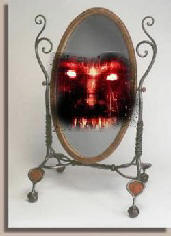 Before we convict, we must look in the mirror
Currently, the town of Wichita is busy pointing fingers at a man who hasn't yet been convicted, and, little attention is being paid to the breeding and fertilization of other B.T.K. killers of degrees who may be incubating in the households of the city, urged to grow by the actions or lack of them of parents and guardians.
Ultimately, the route to the B.T.K's motivation to inflict pain and suffering on his victims will find its source at the headwaters of Terrorism--at the feet of the parents who forgot to, or didn't bother to, instill the Principles of Vigilance upon their child.
Odds are that a child who gleefully maims and murders others had a Beast of Terror as a parent, not a Sentinel of Vigilance.
Before we convict, however, we must look in the mirror to make sure the B.T.K. doesn't still exist outside some undisclosed cell.
If we think he does, our best defense is to take the Pledge of Vigilance.
Go To Yesterday's Story: "1200 Years Of Prison For 1993 World Trade Center Convicted Terrorists"