GROUND ZER0, New York, N.Y.--Nov. 14, 2003-- "Every child needs a high-quality education and proper healthcare in order to prepare for the Marathon of Life."
These are the opening words on rap hip-hop producer/singer Sean 'P. Diddy' Combs' website soliciting donations for the 2003 New York City Marathon he ran for the first time Nov. 2. Combs finished in 4:14:54, but also racked up more than $2 million in donations to the children of New York City.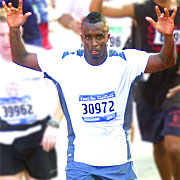 'P. Diddy' finishes 26.2-mile NYC Marathon & gives $2 million to kids
This may make him the first "Rapper Of Vigilance."
Yesterday, he delivered a $1,000,000 check to Mayor Michael Bloomberg to support city schools. He said the second $1,000,000 will be divided among foundations and other children's groups within the community.
As the rapper handed the check to Mayor Bloomberg he stated: "This isn't an Arnold Schwarzenegger moment. I'm not planning to run for office."
Pledges garnered before 'P. Diddy' ran the 26.2 mile New York City Marathon included $78,000 from Ben Affleck and Jennifer Lopez, $10,000 from Mayor Bloomberg and $25,000 from rapper Jay-Z.
What's newsworthy about 'P. Diddy' Combs' contribution to the community isn't the money he raised. Celebrities have the power and often do head up causes and rake in big piles of cash for those they represent.

Reeves promoting spinal injury research
One in particular is Christopher Reeves, who gained international film fame in his role as Superman. Then, after a growing career as a dramatic actor, he fell off his jumping horse, broke his neck, and became a paraplegic, restrained to a wheelchair and unable to move his body from the chest down.
He fights daily to raise money for research into his disease and to raise awareness at the public level. One of his goals, of course, includes being a benefactor of any research that might increase his own mobility. Reeves is both a Sentinel of Paraplegic Vigilance, and, a victim of it.
'P. Diddy' Combs, on the other hand, put his feet where his mouth was. He solicited pledges-per-mile. His goal was to finish the Marathon, but, never having run one, wasn't sure he could. He announced his fund-raising plan in September, just two months prior to the race.

Combs surprised himself. Running on an injured leg, he finished 11,372 out of 34,729 men and women competitors of all ages. Runners ranged from 18 to over 90. In his gender class, Combs finished 9,037 (2,335 women passed him en route to the finish line). And, he ended up 3683 out of 8,507 in the 30-39 age group, well above the half mark--not bad for a first-time marathoner.
It would be easy to chalk up 'P. Diddy's' accomplishment to a mere publicity stunt except for one small factor--hundreds of children.
Along the course, young children from Harlem as well as throughout the city, cheered 'P. Diddy' on. He was running for the kids, not just himself.
On his shoulders was more than a fund-raising event, but a personal duty he assumed when the starter's gun launched the race in Staten Island and 'P. Diddy' legged out on his journey to the finish line.
How many children's eyes were glued to him, and how many cheers they sang for the Sentinel of Marathon Vigilance will never be exactly known, but one can only presume that 'P. Diddy' was well aware that the wings on his feet were flapping for the children of New York City.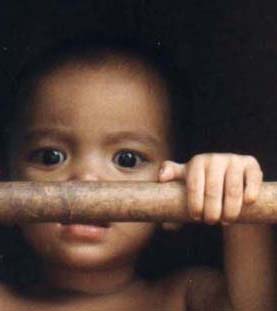 How many children's eyes were watching 'P. Diddy'?
He was running for them.
He took a huge risk.
What if he didn't finish? Not that he wouldn't have generated a sizeable amount of money for the children. He would have done that for sure. But, at a another competitive level, what message would he issue if he "quit" the course?
Our daughter ran the Marathon a few years ago on a bum leg. She was crying in pain on the last grueling section of the race. The famous "wall" that runners "hit" when their bodies crumble on them is also legendary. No matter how dedicated a person might be or how motivated, when the last ounce of energy is sucked from the body, the legs wobble and the body folds.
Then there was 'P. Diddy's' lack of experience. He'd never run a Marathon before, and was facing countless others who knew that endurance was more than just a state of mind or dogged determination to succeed. It took mental, physical and perhaps even spiritual training to achieve the great battle with the body to endure 26.2 miles winding through five New York City boroughs while in the full view of millions of spectators watching live and on television.
I'm not a rap or hip-hop fan. In fact, I tend to veer in the opposite direction when it blares, and I feel my teeth chatter thinking that it is considered "music." But that's just my own aversion to something I don't understand. In fairness to hip-hop, I'm not a music fan at all, and would say about the only music I've ever enjoyed was the Beach Boys.
The idea I might possibly give kudos to a rap hip-hop singer/producer would normally be likened to me diving to the depths of the ocean's most darkest cavern to scoop up whale vomit.
But I set aside my viewpoints, my prejudices and, some might say, bigotries, to look past the tint of my own perspectives to the truly important issue--the children.
This guy, 'P. Diddy', achieved what I think all Parents of Vigilance, all Citizens of Vigilance, all Sentinels of Vigilance ought to accomplish. He put himself on the line. He put his reputation up. And, he put himself on the hot seat.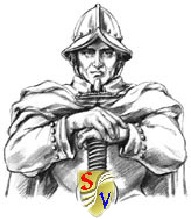 I strive to be a Sentinel of Vigilance in the eyes of my grandchildren
He ran.
He ran for the kids.
Whose to say what his initial motivation might have been. It could have been intoxicated with publicity, but, as he started to train and prepare, and then pinned on his New York City 2003 Marathon number, 30972, whatever had initiated his goal to run was consumed by one driving force--the eyes of the children watching him.
Nothing is more motivating to a person than the eyes of children. They look upon us as adults as their icons, their protectors, their guardians.
When my grandchildren look at me, I feel a power rising from within that sweeps away all other confusions that may clutter my mind. I think in selfless rather than selfish terms. I think about the children, about my duty to them, my role as their guardian, as their Sentinel of Vigilance.
I watch them like a hawk when I am in charge of them. I flick my eyes their way, and scan the area around them as any Sentinel to insure that dangers, threats and harm's way doesn't cast their shadows near them. If it does, I'm ready to put myself between them and the Beast of Terror, whether it be someone walking toward them and paying little attention to their presence, or, the threat of someone "snatching" them in a crowded store or at a playground.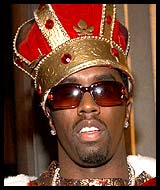 "P. Diddy" shifted gears from the rap hip hop singer/producer record mogul to a Sentinel of Vigilance
Somewhere along the Marathon, at which point I cannot pretend to know, 'P. Diddy' shifted gears from the rap hip-hop singer/producer record mogul to a simple Sentinel of Vigilance.
Sean Combs raise not the $1,000,000 he had planned, but double that. The schools and charities he earmarked the money for benefited in much more than mere cash. They saw a man put himself on the line. They saw him struggle through the obstacles, for running 26.2 miles is a Herculean feat in itself. And, they saw him finish.
This morning, I witnessed him giving a check for $1,000,000 to the children of New York City schools. It wasn't the money that impressed me as much as the fact 'P. Diddy' rose above his own comfort zone.
He faced the Beast of his own Terrors--the Fear he might not finish, the Intimidation he had never run a Marathon before, and the Complacency that he truly didn't have to put himself at risk.
Like any Sentinel of Vigilance he face his Fear with Courage, and banished his Intimidation with Conviction, but most importantly, he drove his Complacency to the hinterland with his primary concern for the Children's Children's Children.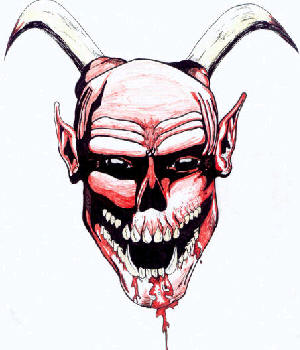 This is the formula of Vigilance. When Courage overrides Fear, and Conviction trumps Intimidation, when Right Actions that benefits the Children's Children's Children overrides one's Complacency, then Vigilance sweeps the feet from under Terrorism. It washes the slate clean. It casts sunlight on the shadows of the children's bedrooms where the Beast of Terror lurks under the beds or in the closets, or, in the anger of a parent's Voice, or, in the cruelty of life's pressure.
I thought this morning about the political Marathon in Washington D.C. Our politicians back-biting each other at the expense of the children. I thought about how selfish politicians can be in their pursuit for power. Then I compared what they are doing--talking--over what 'P. Diddy' did--he acted.
Action always defeats words.
'P. Diddy' rose, in my humble opinion, above the noise of the words. He put his feet where his mouth was.
He ran with the Sentinels of Vigilance.
At the finish line, he became one.

Nov. 13--Why The World Despises America In Spite of Nine Eleven
©2001 - 2004, VigilanceVoice.com, All rights reserved - a ((
HYYPE
)) design