GROUND ZER0, New York, New York--May 30, 2003-- One of the world's most acclaimed CIA assassins attacked New York City last night with a gong. The result was a stage littered with bodies of his "victims," mowed down by the deadly and brutal "termination with prejudice" of club-like mace used to smash an ancient gong.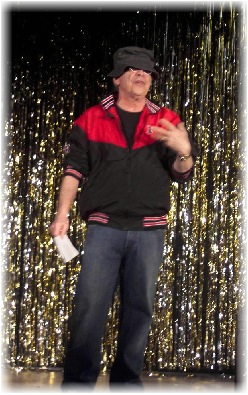 Chuck Barris hosting the West Side YMCA Gong Show
Fortunately, there was no blood.
More fortunately, it was all in fun--in a bizarre sort of way.
The CIA assassin was game show host, Chuck Barris.
He hosted the 2nd Annual West Side YMCA Gong Show fund raiser, held last night at the 63rd St. YMCA on the upper West Side of Manhattan.
However, we think his talents have been misused. He should be sent undercover to root out Osama Bin Laden and Saddam Hussein. Maybe that's why he did the YMCA Gong Show--he's back in the assassination business.
Barris, who rose to national attention in the 60's and 70's by creating a bevy of game shows such as The Gong Show, The Dating Game, The Family Game, The Game Game, The New Treasure Hunt, The Newlywed Game, The $1.98 Beauty Show and How's Your Mother-In-Law, is also the main character in a recent movie directed by George Clooney, Confessions Of A Dangerous Mind.
In the book of the same title, Barris claims he was a CIA assassin during the Cold War. In the movie, George Clooney plays the role of his CIA contact, issuing Barris various contracts to "kill" spies in various countries the game show host visited as part of his role as game show host.
Many believe Barris' story is a spoof on spooks, but then there is the possibility that his "over-the-top" fable might have a thread or two of truth in it. Barris remains tight-lipped on the truth of his role as an assassin, and the CIA isn't rushing to the front of the stage to "gong" Barris. Even if the CIA did denounce Barris as a fraud, its repudiation would more than likely fuel the fires of veracity that what Barris claims might possibly be true.
One thing is for sure, both his best-selling book and movie raised Chuck Barris' stock. Since the movie's release, his recognition and fame has sparked.
Perhaps that's why he chose to host the West Side YMCA Gong Show benefit last night.
Taking the stage in the small theater that holds about 100 people, Barris told the audience that he heard about the Gong Show Benefit and offered to host it to the delight of YMCA organizers.
"I wanted to help out," he said as he introduced the various acts, most of which were chosen not for their talent, but for their ability to be "gonged."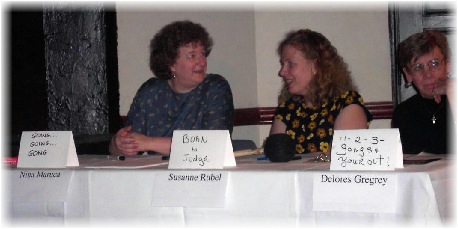 Three woman commanded the power of the Gong
A three-woman panel held the power of the gong. As contestants took stage, the judges elected either to let them finish their amateur acts or, to rise slowly, stalk the brass gong, and then slam it to end the agony of both the performer and the audience.
Three surviving contestants won. Superman took third place: he gyrated and danced about the stage, overcoming evil. Simply Dan won second, how, I don't know. I preferred Sarah and Jan, the two one-legged dancers, but Dan was the last act and the judges, I think, had tired of gonging contestants. Top winners were a mother and two children, Amy & The Angels.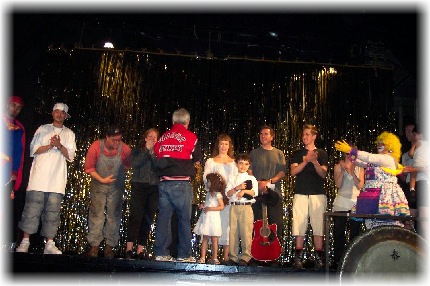 Barris with Gong Show act participants
Chris, a unicyclist armed with tennis balls that threw at the judges got gonged early on, and Rory of "Squirrel Amnesia" who balanced himself on a skateboard while trying to pick up three well-shaken Coke cans and open them with his teeth was also hissed off the stage.
One contestant, Taina, a singer, was upset her music didn't play as she warbled sour notes, suggesting futily that perhaps the music background might have helped her cracking Voice.
Barris comforted each gonged contestant in a jovial fashion illustrating years of experience. He maintains that "stoned look," making one in the audience wonder what kind of mushrooms he ate before mounting the stage.
Three years ago, Barris tired of Paris where he had retreated from New York City. But, according to an interview he held after the show with NY One's entertainment icon, George Whipple, Barris heard the call of the city beckoning him back.
Barris' fertile imagination may have run overtime when he elected to weave into his autobiography the fact he was a CIA hit man during his game show heyday.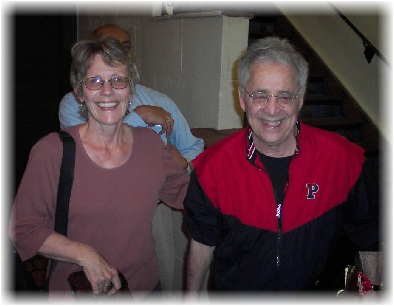 Lori kabitzing with CIA Agent Barris
Personally, I liked the movie. I'm not a fan of the Gong Show, and can hardly remember ever watching it. My wife loved it and sang along with the Gong Show Band. But, the insanity of the Cold War and cloak-and-dagger nature of the government at that time (and perhaps still today), leaves enough of a crack in the door of reality to give an inch of authenticity to Barris' claim.
In my life, I have witnessed enough stupid decisions by enough allegedly smart and powerful people to consider anything is possible.
Also, if you were to pick a mundane person to be an assassin, no one would fit the bill better than Barris. A short-statured man with bushy hair and a stoned-grin, no one would suspect him of being a cold-blooded killer.
Maybe that's why he would be the best to hunt down Osama Bin Laden and Saddam Hussein.
Nothing would be more ironic than having Chuck Barris claim the "kill" of two of the world's most infamous Terrorists.
In a world of massive technological warfare, a bushy-haired, innocuous looking assassin might be worth his weight in gold over highly trained Special Operations Teams that have been foiled when it comes to uncovering and discovering the Most Wanted Terrorists of All Time.
Imagine the conversation between the two:
"Osama?"
"Yes, Saddam?"
"Did you hear?"
"Hear what?"
"We're in deep do-do!"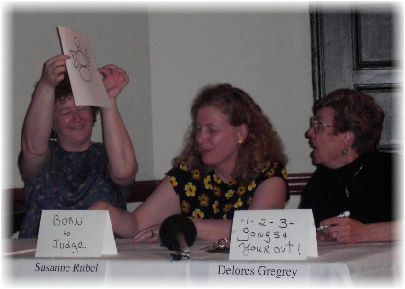 Highest ratings went to Amy and the Angels
"Why's that?"
"The U.S. is after us again."
"Har-har! Those fools can't find a needle in a haystack. Why are you worried, Butcher of Baghdad? They haven't gotten us yet."
"Alas, our days are numbered. Make your final plans, my friend. Restore your place in Paradise."
"My turban is tight, Saddam. What is your concern?"
"They have hired a new assassin. He is coming our way."
"Who is it, Great Butcher of Baghdad?"
"Chuck Barris."
"Almighty Allah, no!"
"Yes. He has surfaced in New York City. He is back again. Make your peace with Allah, my friend."
"I will. I will leap upon my sword before I let Chuck Barris Gong me to death. What a horrible legacy. To have been sent to Paradise by Chuck Barris. I shudder at the thought."
"I shall drink poison, Osama."
"I will see you in Paradise, Saddam."
"Don't wait, Osama. If you see a bushy-haired man coming on a camel, kiss Allah, for your life is not worth the din of a gong."
"Roger that, Saddam. Thank you, my friend. Thank you for the warning."
(G-O-N-G....................)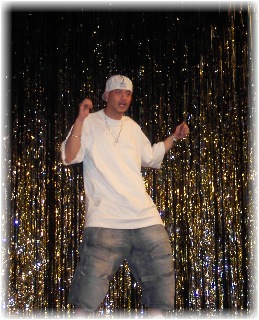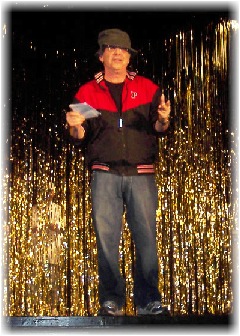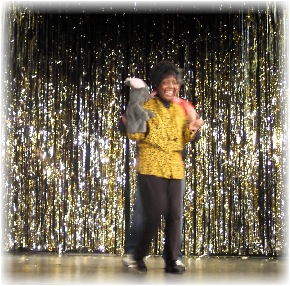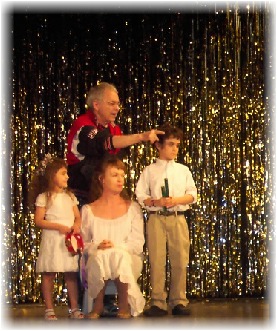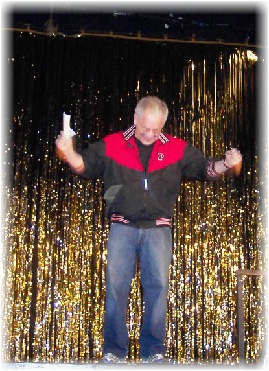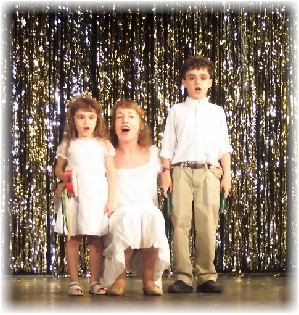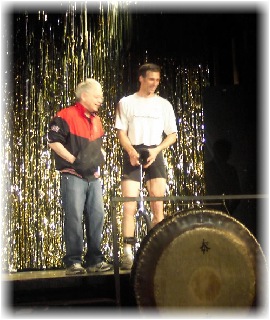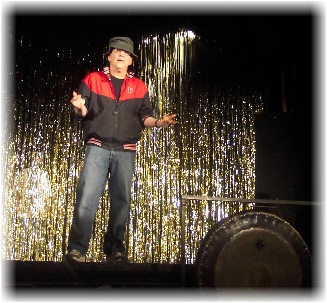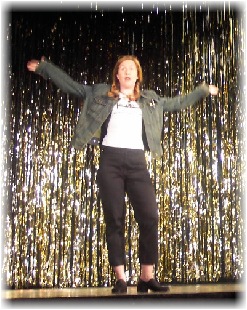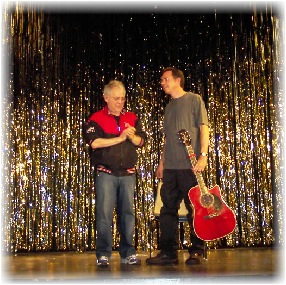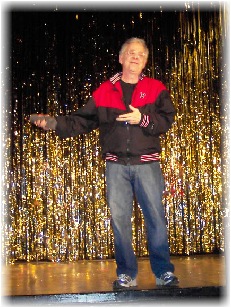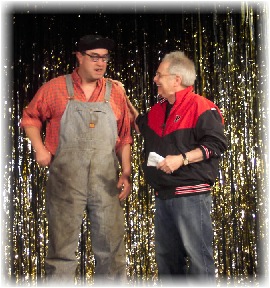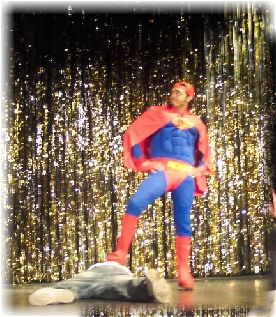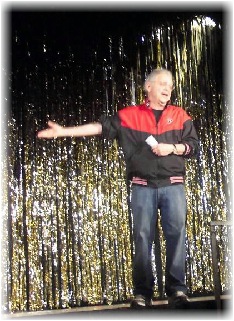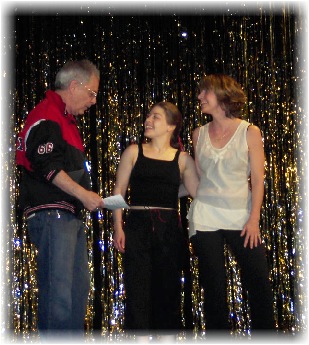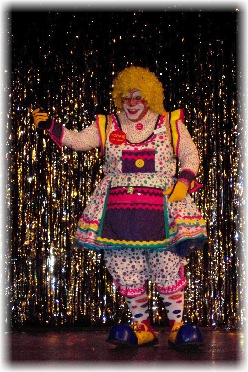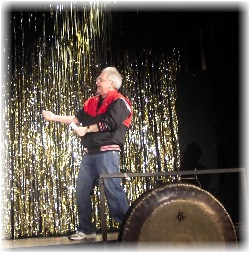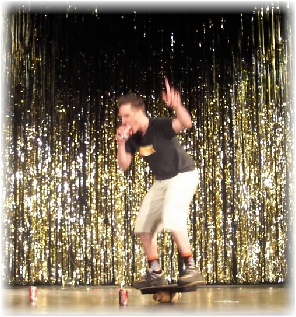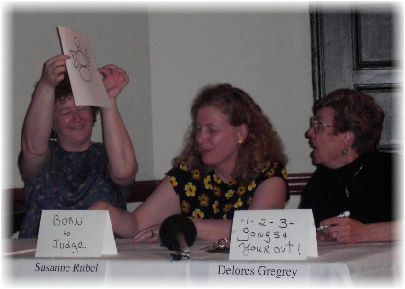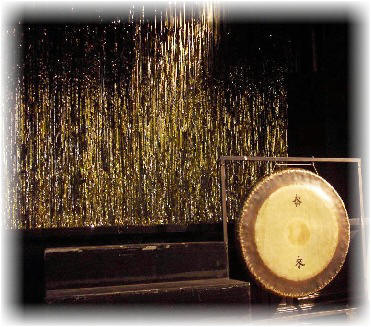 Gong Fun with Chuck Barris
May 29--"Feeding The Beast Of Terror"
©2001 - 2004, VigilanceVoice.com, All rights reserved - a ((
HYYPE
)) design