GROUND ZER0, New York, N.Y.--Sep 13, 2003-- I hired Johnny Cash once to perform for 7,500 people from the international company I served as its head of marketing. And, I was sad when he died, for I knew he died battling the Beast of Terror.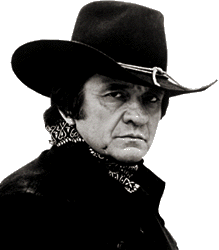 Johnny Cash died battling the Beast of Terror
We met about 25 years ago in 1978.
Each year the company I served as the head of international marketing sported a convention in Las Vegas to present our new tools and systems to more than 7,000 owners of franchises and their sales forces that numbered more than 100,000 strong.
To peak the three-day event, we sought headliners to perform as we weaved in new advertising campaigns, presented fabulously designed sales and management tools, and sought to inspire our franchisees to continue paying six percent of their gross income for the license fee we owned. The events were as much political as practicable, igniting our members with a sense of belonging and need similar to the Republican or Democratic conventions that seek to inspire members to beat the bushes and gain more market share of votes than the other.
Credibility was reinforced by hiring icons such as Bob Hope, Ella Fitzgerald or George Burns, and high profile names like Ronald Reagan and former President Gerald Ford whose presence endorsed our leadership as the biggest and best in our field.
But we also had another goal. To make sure our people left the convention with a great taste in their mouths for coming back the next year. Johnny Cash would sing them into a state of glee, I thought. The executive committee agreed, and I made a deal with Cash to perform for an hour at the Hilton Convention Center for a whopping $70,000. In those days, that wasn't hay.
Of all the people I had hired to spike the enthusiasm of our people, no one held them more captive to his charms than Johnny Cash.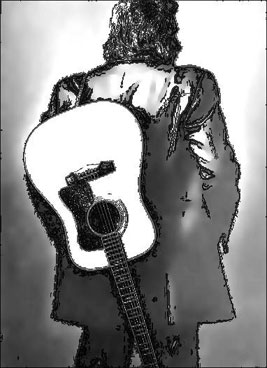 Johnny Cash held the audience captive to his talent and charms
He was warm and powerful, his songs speaking to a chord in all of how a country boy could rise from simple surroundings to the peak of glory. Franchising itself is about becoming a giant from nothing. By attaching your wagon to a star, aligning yourself to the Big Brand Name, the smallest of all competitors can reflect the image of a giant; David can become Goliath overnight.
Johnny Cash was a symbol of bootstrap success. He enraptured the audience and sent them to all points of the compass with smiles on their faces.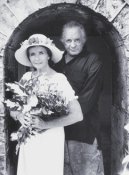 June Carter married Johnny Cash March 1, 1968
My wife and I met with Johnny and his wife, June prior to the show. He was an imposing image, grander by far than any of the politicians or business icons we had hired before. He was a "regular guy," and spoke of the property he had just purchased. June, his wife, described how they were going to turn the property into a home, designing it around their children so their kids would have acres of safe playground to roam and imagine all the wonderment of innocence.
I remember her eyes sparkling as she spoke of the property's architecture, and the quiet appreciation Johnny Cash gave her as she bubbled over with enthusiasm about the project.
"We can play for a couple of hours or more if you want, Cliff," he said. "We're all set up. You call it."
He made the statement from his guts. Most performers climb up on the stage and look at their watch, and at the end of their set rush off to move on to the next show.
I wished I could have taken Johnny up on his offer. But we had a herd of Las Vegas union workers set to strike the set at a specific time, and our people all had their planes to catch. To take him up on his offer would have screwed up countless logistics.
That was the kind of guy he was.
He was as human as a man could be, and his wife was his biggest fan.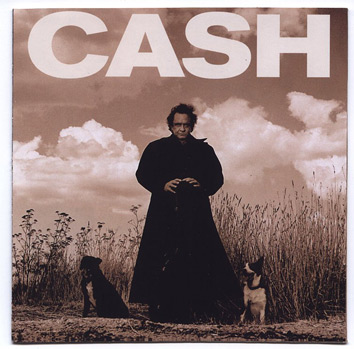 Despite his charisma he was a "regular guy"
Of course, he was dressed in black--a striking figure that swallowed the room's energy and dwarfed the multimillionaires who surrounded him, awed by his craggy face and stentorically soft Voice that rang like the reverberation of a blacksmith's anvil. My wife still speaks of the penthouse filled with chattering party goers wholly silenced by his magnificent charisma as he strode in clad in a black long-rider coat.
I left the company a couple of years later, taking with me a few great memories. One of those my meeting with Johnny and June Cash.
I kept my ear to the rail regarding Johnny. In a few moments, he and I had bonded. I'm a big guy like he and have fought my own battles through life not unlike the battles Johnny faced.
One of his demons was booze and pills. He struggled with it most of his life, slipping in and out of the Beast's grasp.
June helped him sober up and served as his Sentinel of Vigilance, working with him to keep his head above the waters that sought to suck him back into the neck of the bottle, or to pry out the pain pills and swallow far more than he needed for that extra "boost," that shot of false energy that drove the body and mind beyond its capacity.
I ran into him in Newport Beach about a decade ago. He was struggling to stay clean and sober, trying to surround himself with life preservers that would keep him afloat as the Beast clutched and grappled at the Man In Black, trying to suck him down into the quagmire where spirits and pills clouded his vision, dulled his magic and ravaged his body.
When Johnny Cash died, a part of me shuddered.
I felt a loss within, a friend had gone.
In May of this year, June died. I thought of Johnny Cash missing his Sentinel of Vigilance. I thought of his body shuddering and shaking, trying to battle the Beast without her help. He was already scarred by his past. His body--liver, heart and chemistry--was on its last legs. Still, he performed. He continued to etch his legacy upon the ears, the minds and souls of the young people.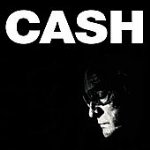 Cash's album American IV was nominated for best album of the year
His recent nominations at the MTV awards symbolized his far-reaching impact on all generations, and the ability of his music to cross all lines. He was a United Nations Ambassador of Music--a man who fought to improve life for all even though he, himself, was dying a slow, painful death.
Heroism is about selflessness. It's about sacrifice.
The Principles of Vigilance--Courage, Conviction and Right Actions that benefit the Children's Children's Children--did not die with Johnny Cash. He fought to the end to leave future generations a message, not just with music, but with a full, challenging life.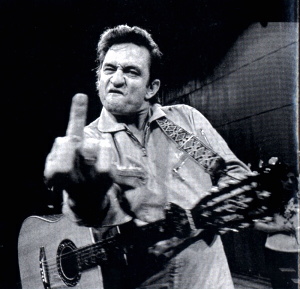 Cash fought booze and drugs throughout his career. (above performing at San Quentin prison)
He fought the booze and drugs throughout his career. And, he sought out those who could help him in the battle, specifically, his wife.
I think about those of us who fold our tents when the going gets rough. Sometimes, when we face our demons we allow them to win the battle. We surrender to them and stop giving Vigilance the due it deserves. It's called Complacency, the third element of the Triad of Terrorism, which has as its first two elements Fear and Intimidation.
Daily, I know in my heart Johnny Cash had to shake off the Beast of Terror. The drugs and booze called to him like sirens, beckoning him to succumb to their seduction.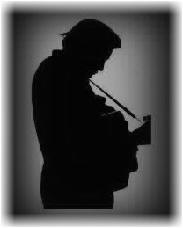 Sobriety enabled Johnny Cash to leave his legacy for the young
But I know he couldn't have driven himself to the final success he achieved with his MTV accolades unless his mind was clear.
Sobriety--the art of clear thinking--wedged its way through the yoke of the Beast of Terror, lifted it, and let Johnny Cash leave his legacy for the young, for generations that might have blinked and never knew how great the Man In Black really was.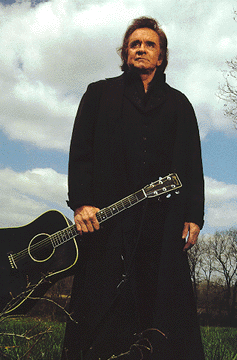 The Man in Black is among the Sentinels of Vigilance
Now, Johnny Cash is among the Sentinels of Vigilance. He sings to them in his gravel-rich Voice, reminding those who take the wrong turn when the shadow of the Beast of Terror casts its pall upon them that there is a "ring of fire" that one must leap over again and again.
I will think well of Johnny and June Carter Cash. I will see them fiddling up above Ground Zero, keeping the eyes and minds of the Sentinels of Vigilance sober so that the Beast of Terror can't penetrate the safety and security of the children or their Children's Children's Children.
Yes, I will see the Man In Black smiling down on all the children, reminding them to never give up. And, fortunately, they will be listening to his music, the music of a Man of Vigilance.

Sep 12--The Nobel Vigilance Prize--A Legacy From The Assassination of Anna Lindh
©2001 - 2004, VigilanceVoice.com, All rights reserved - a ((
HYYPE
)) design